Hey there, my name is Ian and I am the founder of Cape.ly
For over a decade, I have been helping companies with their data challenges and coaching employees on how to enable their organizations for successful data initiatives:
Individual contributors, technical and non-technical
Team leads, directors, vice presidents, and C-level
A few good strategic decisions can be game-changing, especially at the management level.
If that sounds interesting to you, you can learn more about past projects on my profiles on Cape.ly and LinkedIn, or on my personal website.
Cape.ly does not provide any consulting services that are not related to our Data as a Service. But I may be able to help if time permits and your project piques my interest.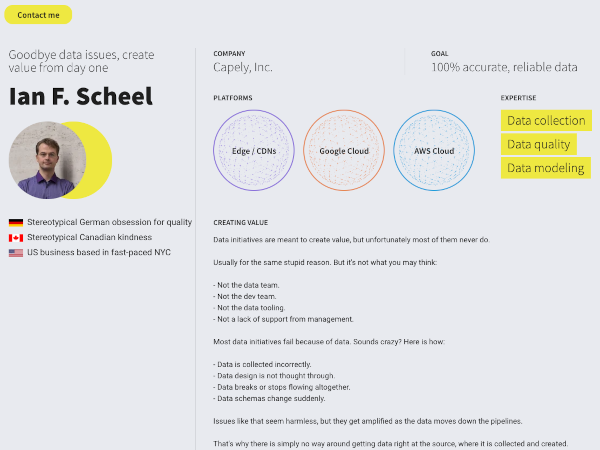 Obsession for quality and more than a decade of experience
My work with medium-sized to large companies in North America and Europe has provided me with a wealth of experience and a unique combination of traits:
Stereotypical German obsession for quality
Stereotypical Canadian kindness
US business based in fast-paced NYC
I believe very few have as deep an understanding of all the client-side and server-side technological details that affect data quality and reliability as I and other team members do.
You can find more information about past projects on my profiles on Cape.ly and LinkedIn, or on my personal website.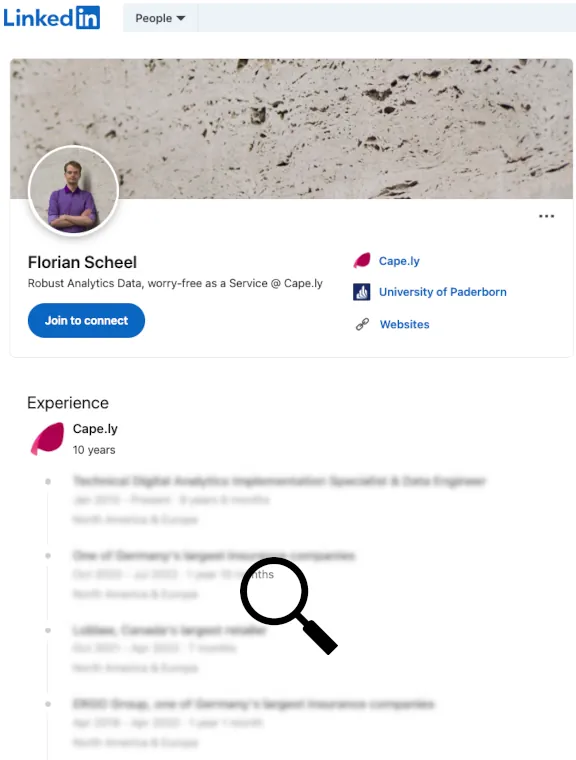 When aiming to maximize conversion rates, increase average cart values or set individual prices for products and services, optimization and personalization efforts require data.
"Garbage in, garbage out" is a huge problem, but the costs increase exponentially, because the further downstream the more effort it takes to fix data, if it's even possible.
Instead of admitting that the implementation is not right, data teams often blame the tool. However, a new tool without an improved implementation won't produce better results.
Even though most never do, some new implementations may produce quality data at first. However, it requires constant effort to maintain that level of quality.
Due to more focus on privacy, browsers and mobile apps make it increasingly difficult to collect behavioral data, which requires sophisticated data collection strategies.