A new and modern approach to collecting and using event data: Single Source of Truth by design
From a data architecture perspective, analytics tools, data stacks, and marketing technologies are all just data pipelines that consist of the same components:
Creating / collecting data
Processing data
Storing data
Using data / creating value
Instead of having all these solutions create redundant, usually inconsistent, and often low-quality data, it's better to create data only once and focus on its quality.
With our DaaS, you can stream the same data into different MarTech tools, analytics solutions, and data pipelines to ensure overall consistency and remove redundancies.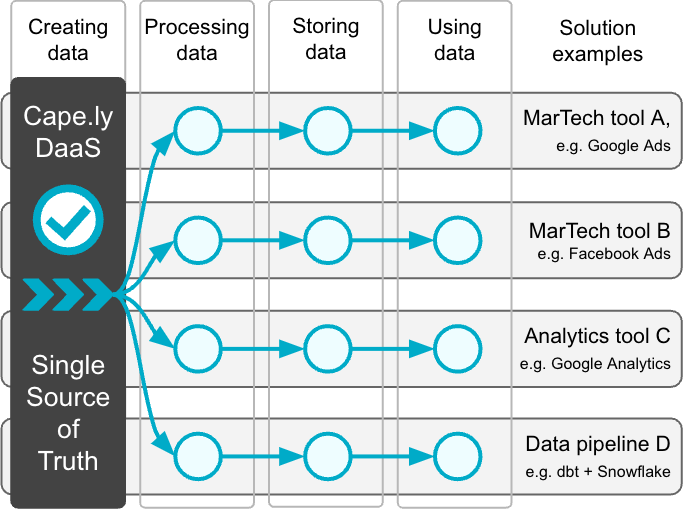 One data source for all your tools and use cases – quality guaranteed
Based on over 10 years of experience, we collect user-related event data in the highest quality from your:
Websites and web apps
iOS and Android apps
APIs and other backend systems
Let us take care of implementation complexities and related data issues. Our Data as a Service is sent directly to your:
Data stacks / pipelines
Marketing technologies / tag managers
Analytics tools
So you can 100% focus on creating value in your role: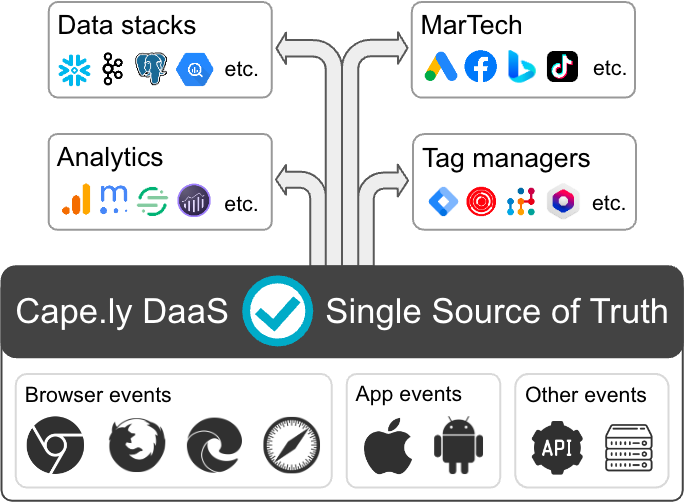 You need to measure everything to answer the why, not just the what
You can't manage what you don't measure. And if you don't measure enough, a lot of questions remain unanswered making it difficult to provide actionable insights.
You may have been given this advice before: Focus on a few important data points and make sure that data is accurate and reliable. We strongly disagree with this limiting approach.
Transactional data answers the what, event data answers the why. So to answer the why, you need a complete picture of what happened, as anything can affect a user's behavior.
Our Data as a Service aims to cover everything. And if something is missing and technically possible, we add it.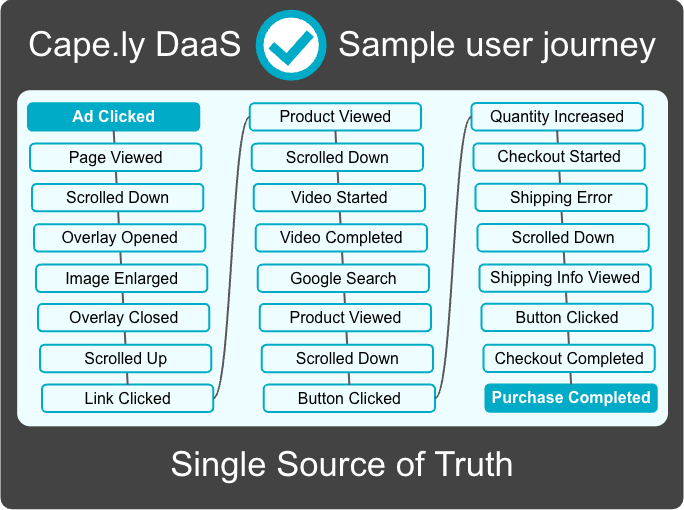 Stop worrying about data collection and quality: We've got it covered
We focus 100% on collecting the best data possible and covering as much of the user journey as possible. Unlike agencies, we don't analyze the data, and unlike analytics vendors, we don't store any data and use it.
Our sole focus is the data and its quality, so we constantly adjust your implementation to technological changes, and integrate the data from various sources:
Websites, SPAs, PWAs, etc.
iOS, Android, smart device apps
Ads, online & offline user journey
CRMs, emails, SMS, chats, calls, etc.
Spend less time on tedious data tasks and focus on creating value through your use cases.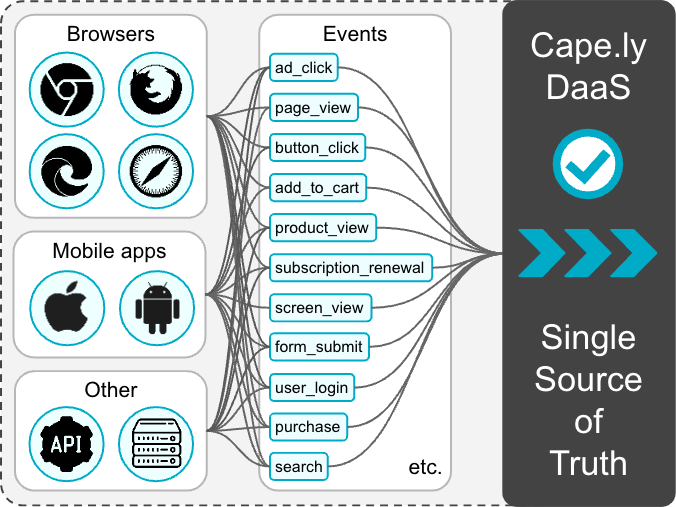 One tool-agnostic, future-proof, and cost-effective implementation for everything
Our implementation is the last one you'll ever need, and you don't have to lift a finger. We'll replace all your current legacy implementations and data collectors with just one.
Free your websites and apps from legacy code slowing them down (maybe even breaking them) to make a lot of people very happy:
Your users and customers
Your UX / site reliability team
Your security and compliance team
The data we collect for you can be used with all kinds of marketing technologies and data stacks.